Angel Tattoo Design Studio - Main Branch Near IFFCO Chowk, Gurgaon.
Angel Tattoo Design Studio, If Picasso would have been born in this age, he definitely would have appreciated this unique art of Tattooing, which is as unique as it's ultimate canvas - the human body.
Angel Tattoo Design Studio(R) is dedicated for growth of Permanent and Temporary Tattoo Art in India. We see all big cities of India have already given a nod to the potential of the tattoo art. Providing quality information to anyone who needs will surely help this art getting the deserved Love and Respect.
Here are quick 4 points which will surely change your view and help you in case you are planning to get a Tattoo in Delhi or Gurgaon :
1. What is Tattoo :
Tattoo is a permanent mark on human body which is made by inserting ink into the second layer (dermis) of the skin. Word Tattoo came from Tahitian word 'tattu', which means "to mark". So Tattoo is a kind of permanent marking on human body. Human skin has main three layers ; epidermis, dermis and hypodermis. Permanent Tattoos are made by injecting the ink into second lay of skin, which is dermis. Ink can be inserted in numerous ways right from old techniques like using fish nail tattooing, bamboo, scarification to using latest rotary, coil and pneumatic tattoo machines. Tattoos are made for various reasons. Earlier Tattoos were made on a person to show his position in society, family background, occupation etc. There were cultural and decorative tattoos also.. In today's time, tattoos have taken major place as body modification art and are used to express a lot about individual's personality. Tattoos are part of modern trend and if designs are made nicely, tattoos have power to express a lot about your personality. A thoughtful tattoo can touch the soul, meanwhile decorate and beautify the body.
2. Choosing Tattoo Design for yourself :
When choosing a Tattoo design, keep in mind that Tattoo will be like a part of your body for rest of your life, so make sure to give yourself and Tattoo artist a good enough time to freeze the design. If you have any design idea, share it with your artist openly. Caring any reference of design can be a great help to the artist to narrow down and customize your dream Tattoo. Almost all artists keep good enough designs in their library to assist people who do not have any design idea for their Tattoo. Personally speaking, through we welcome everyone who step in our studio even without any design idea for his/her Tattoo, but we really appreciate if customer had already done some working on design before visiting us. This in another words also shows that person the Tattoo artist is coming across with is has love for the art and is passionate about his/her Tattoo. You can take help from websites like google etc. to look for design reference, or cutting from news paper, magazine, any live photo, object or even a reference from movie can help Tattooist to work on design.
Also give a thought on location of Tattoo on your body when working on design, should it be easily visible to everyone, or you want it to be more personal. Do share with the artist if you want Color Tattoo or black Tattoo. Your artist will help in closing the colors in case you need a color Tattoo.
3. Good Tattoo Studio :
It is utmost important that you get Tattoo from very neat and clean Professional Tattoo Studio . Ask as many questions you can. Check how hygiene cautious the Tattoo artist is. Do they have proper sterilization facility. Give special attention to :- - Tattoo Artist should be wearing and medically approved gloves. - Ink caps, Tattoo machine covers should be of one time use. - Check the Tattoo needle expiry date and ensure brand new needle is taken out from sealed packing in front of you. - Have a look on Tattoos which are already made by the artist. - Tattoo Artist should be clean, sanitary and in good health condition.
Our Artists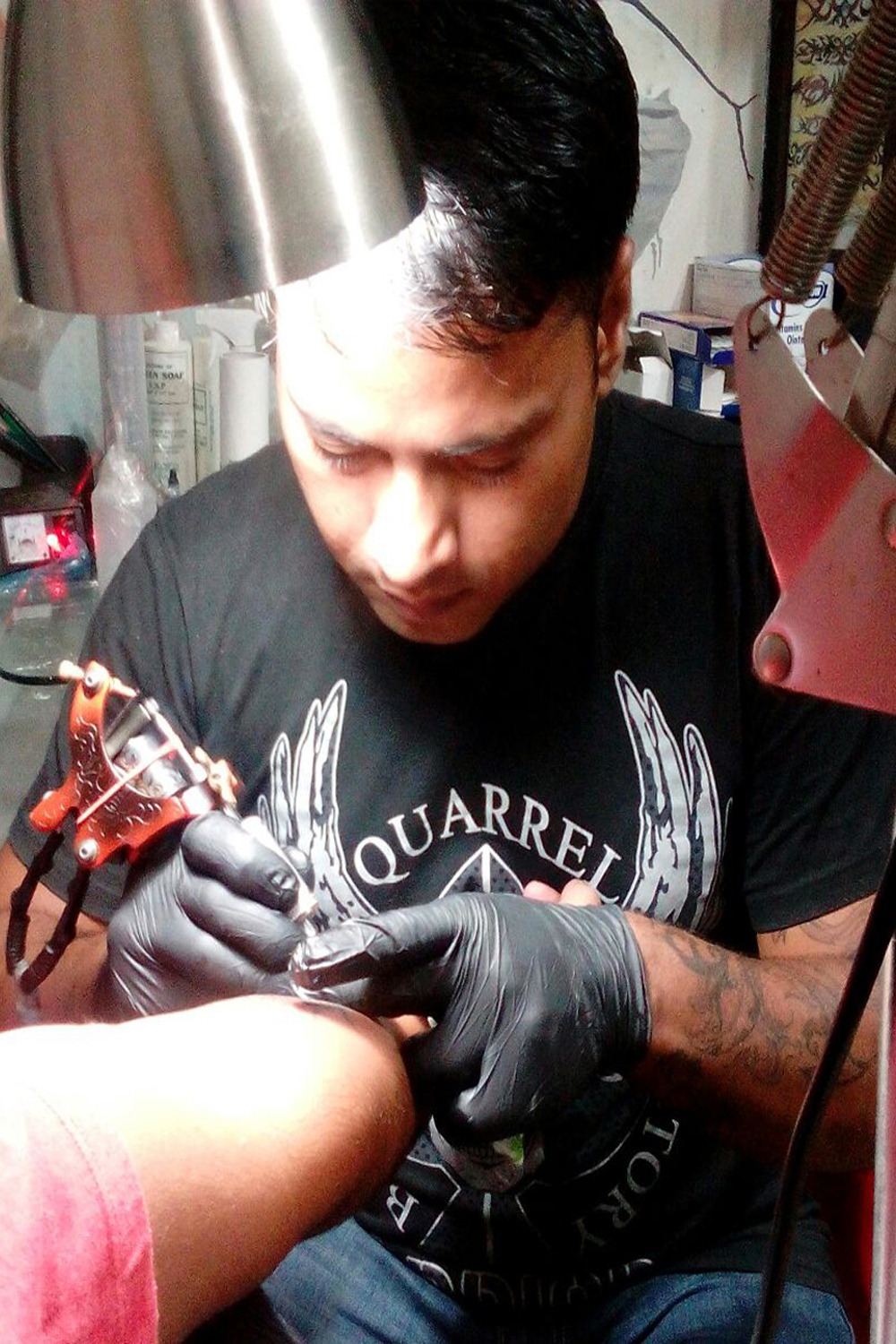 Satty :
Satty is mainly into permanent Tattoo making with expertise in Shading/ Greywash, Portrait and Colour work. With 8+ years as a tattoo artist in india , Satty also help our designers/ new-comers in customizing the best design and help freshers to learn details of Tattooing in order to improve their work through Tattoo Training Courses.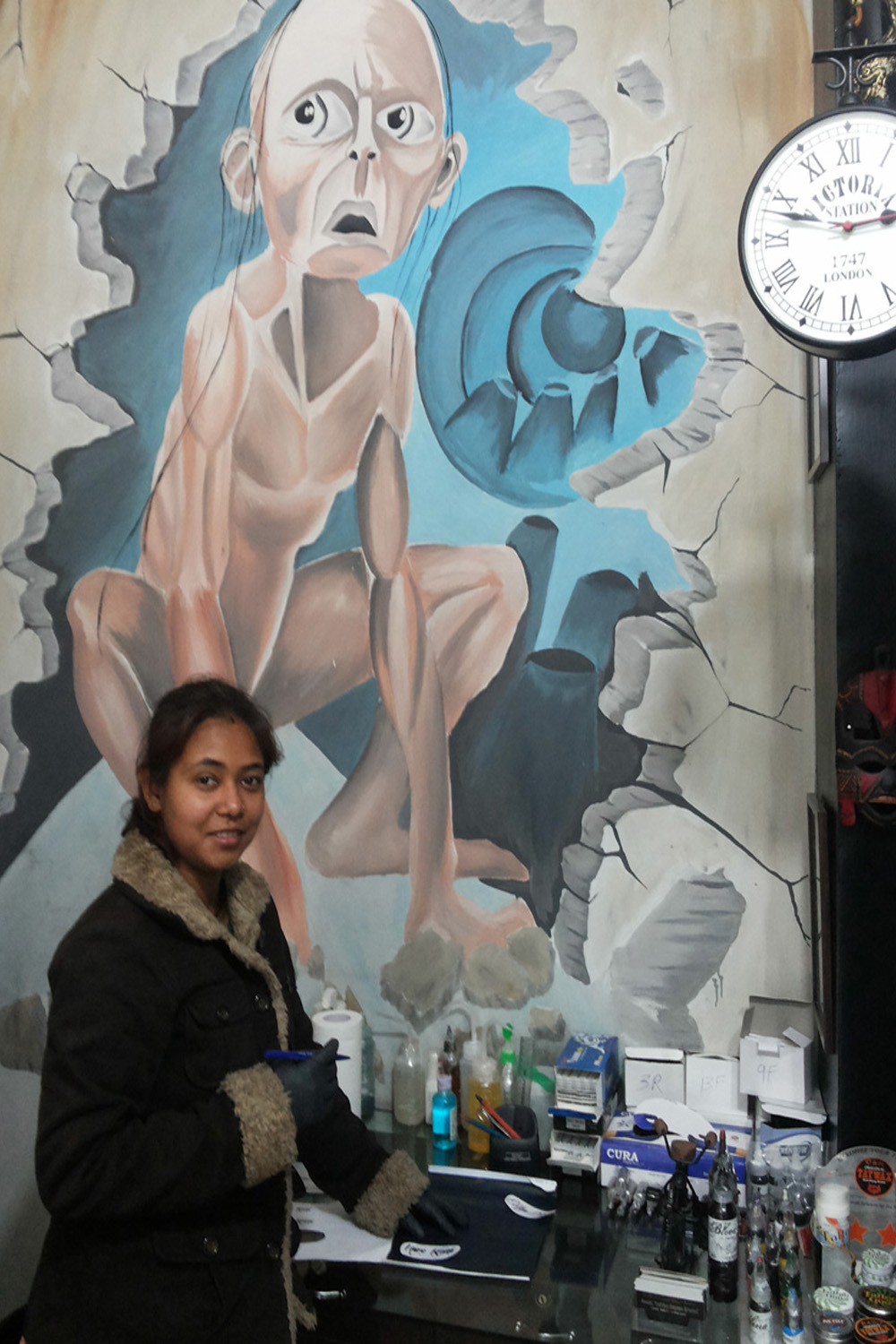 Jerry Chauhan :
Jerry is mainly into Tattoo designing and free-hand Temporary Tattooing/ Body Art. With her professional qualification in Fine Arts, she has expertise on free hand tattoo designing. Jerry is into Tattoo Designing since 2010 and help customers to give shape to their thoughts on a piece of paper.
*Google Search :- "tattoo studio, tattoo shop, tattoo parlor, Best tattoo parlor near me , tattoo studio in india, tattoo artist in india, best tattoo artist, tattoo studio for girls, female tattoo artist, tattoo removal, tattoos, tattoo shops in gurgaon, tattoo training"