Angel Tattoo Design Studio - Main Branch Near IFFCO Chowk, Gurgaon.
Parents are precious, and when comes to tattooing, what could be better than dedicating your tattoo to your mother and father. In national language of India 'Hindi', mother is pronounced as 'maa', and word maa is common in most of the languages used in india.
With slight change, you will find word 'maa' is the part of word used for female parent of a child almost every where in the world. Lot been said by etymologist about the root and derivation of the word, and reasons for its resemblance all around world. But the basic reason lies within the most sacrad relationship between a new born and the female parant:
Cries of new born, if you listen carefuly will sound like 'Maa', which gave birth to this word even when we human didn't had any verbal language to communicate.
I will be your guide throughout this page with the information about Maa tattoo designs, (1) will share stories of our customers who dedicated tattoo to their family, (2) Maa tattoo made by us and (3) will also share some latest tattoo designs: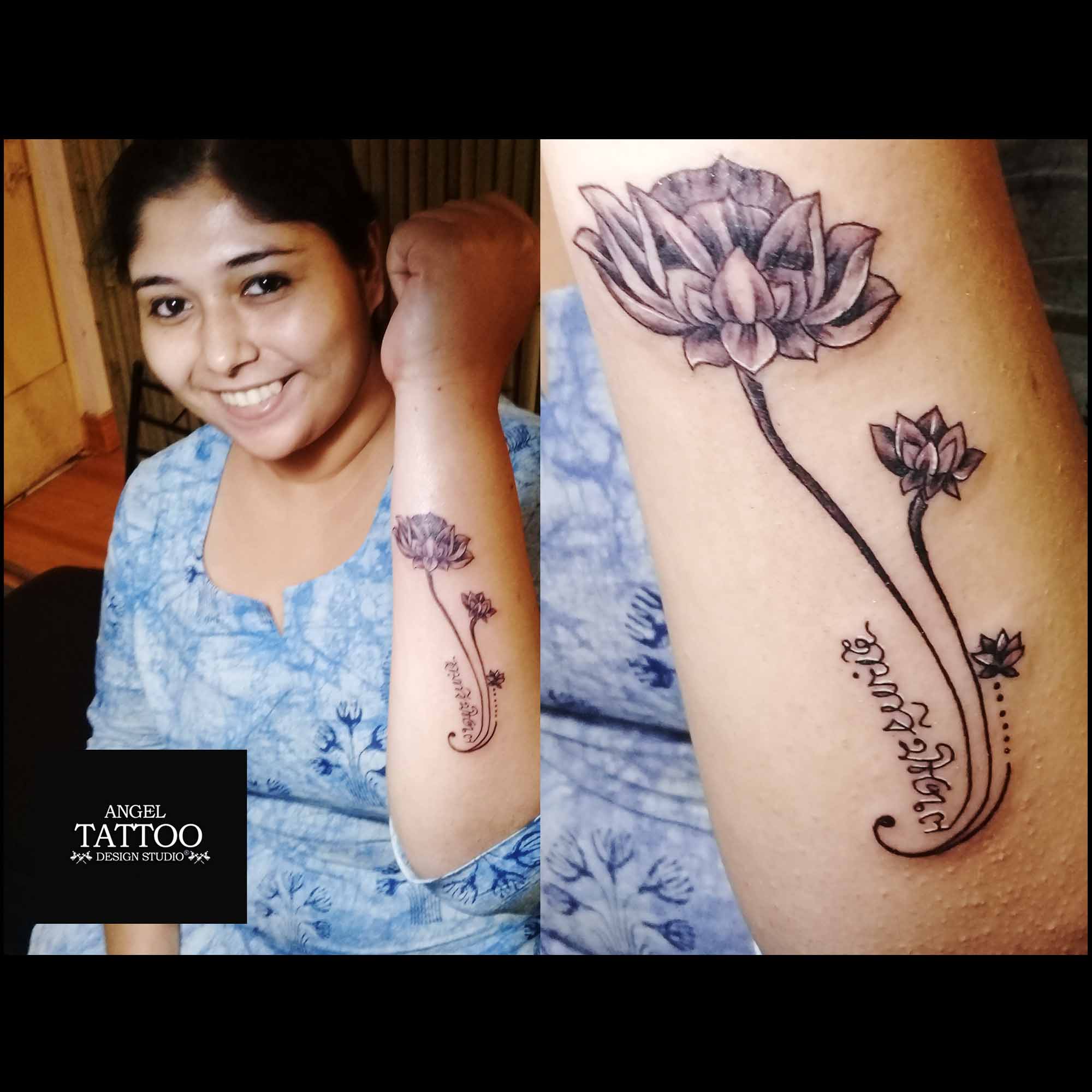 This respectable client of us had preworked her design. Rather than getting tattooed just a plain name for her mother Kamla, she gave thought and worked a design of flower kamal (lotus). So design represents her mother name, and kamal itself is a very respectable flower with lot of religous value in many traditions. To gave the design more family touch, she merged wording of her mother's favorite song "under the shadow of tree" in the design and it resulted a complete tattoo dedicated to her maa. Being working women, she spent most of the time away from her home town, so she shared with us how this tattoo is so close to her heart.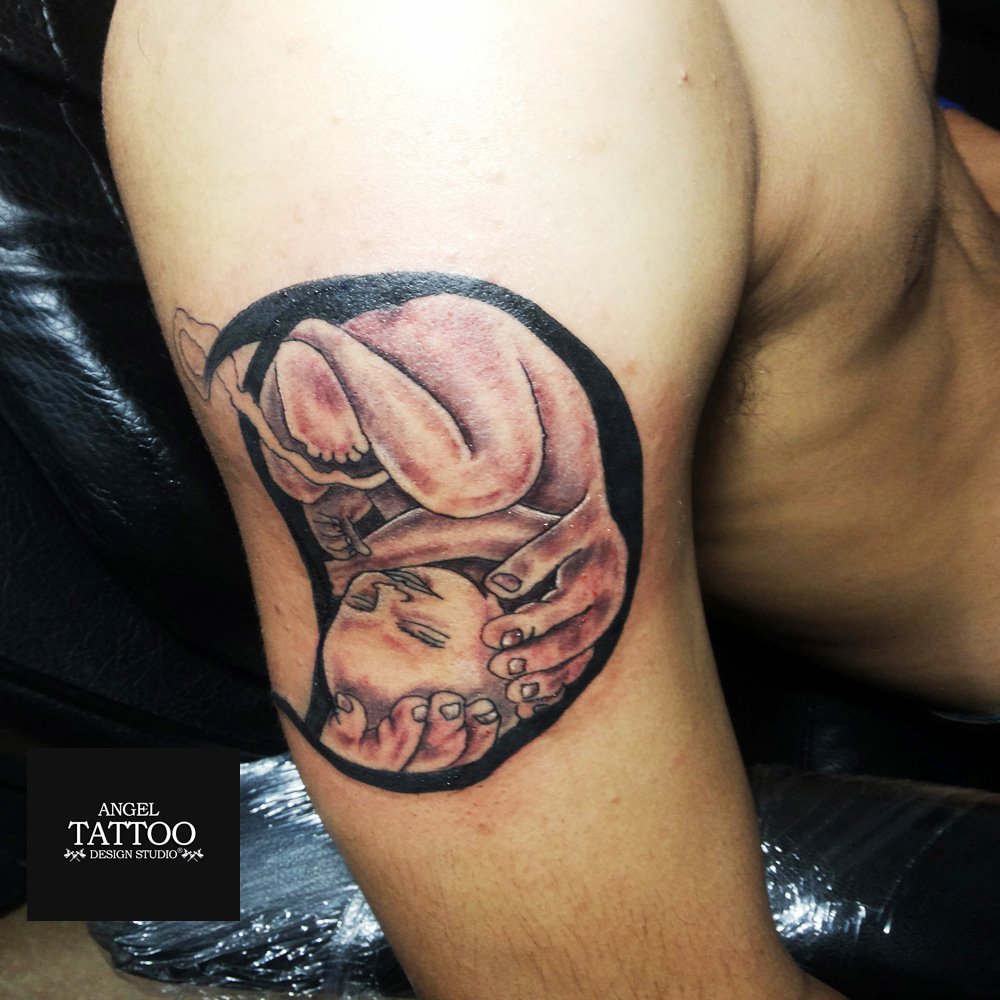 This client walked in and discussed with us about tattoo he want. We worked out some options and finally he picked one design which is actually a womb, a sketch showing a bady in the womb. His mother name starts with letter 'D', so he sugessted us to change the outer shape of womb to look like D. This is how he gave inputs of his toughts to work tattoo for his Maa. Design is combination of black and shadding work and it was very satisfactory as customer mention us this is "what he was thinking to get inked".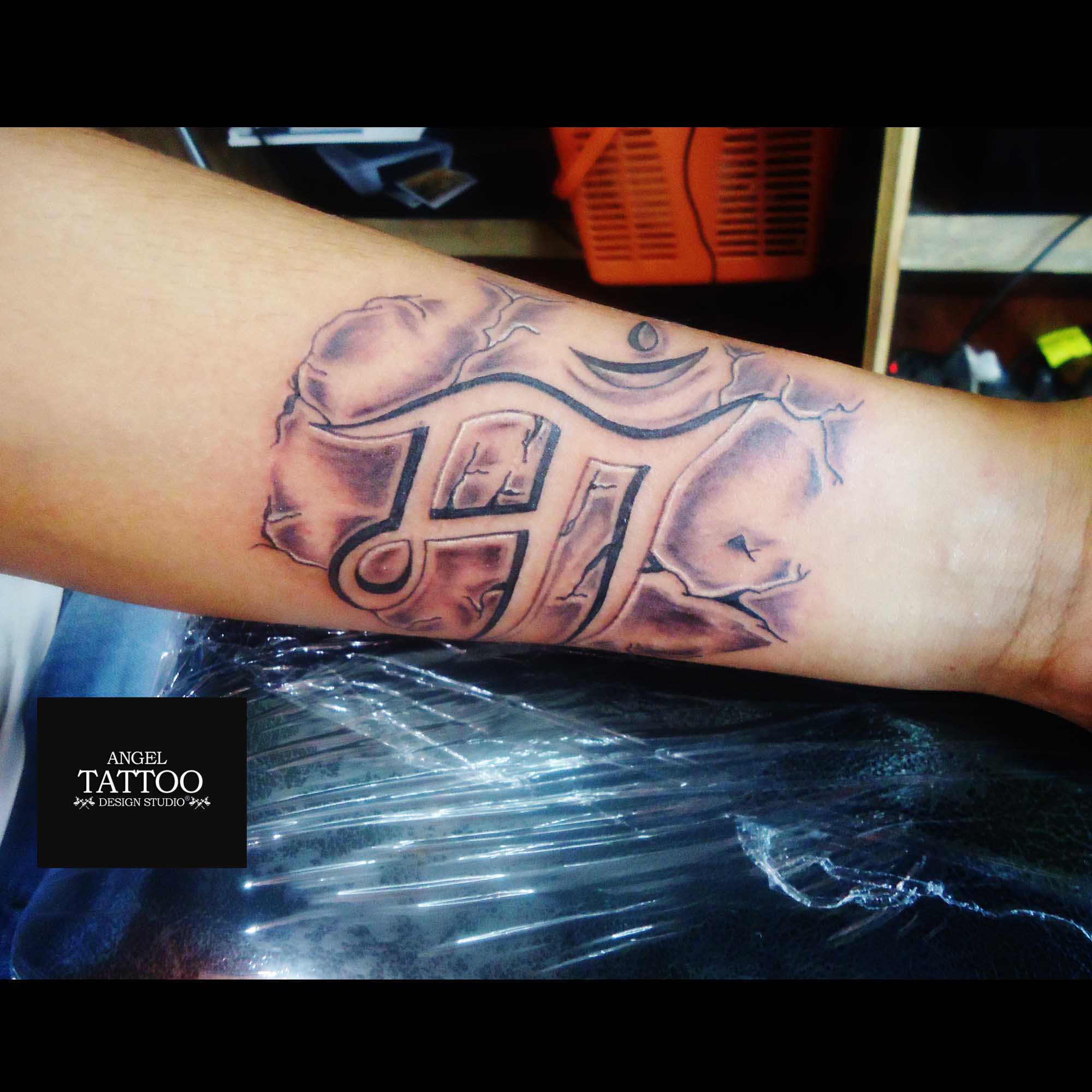 With young bollywood star Arjun Kapoor getting Maa in hindi script inked on his wrist, Maa tattoo in hindi came in high demand all sudden, and not loosing its demand and charm even its been years now. It seems this design was waiting for a spark which came through bollywood. We worked more than 20 designs of maa in hindi script with some or other change in the design. Have posted approx 10 designs at the bottom of this page you can easily choose from for your own tattoo. Designs with simple black to colour tattoo, or mother holding a baby line sketch mergerd with design can add uniquness to the design. And you can always share your thoughts with the artist to make changes in order to get design and per you.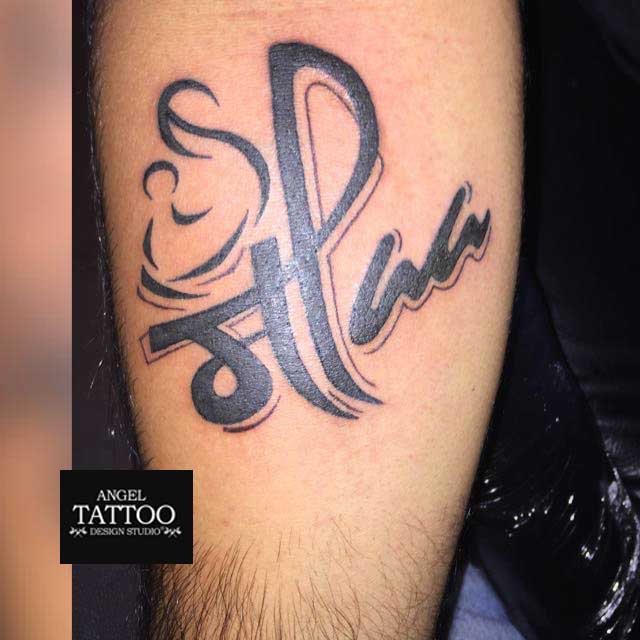 Mixing word Maa (mother) of hindi script with Paa (father) in english script is another hit of this year. This mixing results a unique indian design. A design which you can carry life time and we see it never getting out of trend in india. Here you can see some example of Maa Paa tattoo, and again, artist welcome you for changes if required. Though it is a family tattoo, but it also represents how mixture of hindi and english is accepted in our socity today. Though hindi is our national language, but seems not complete with english, like this tattoo of maa seems incomplete without word paa.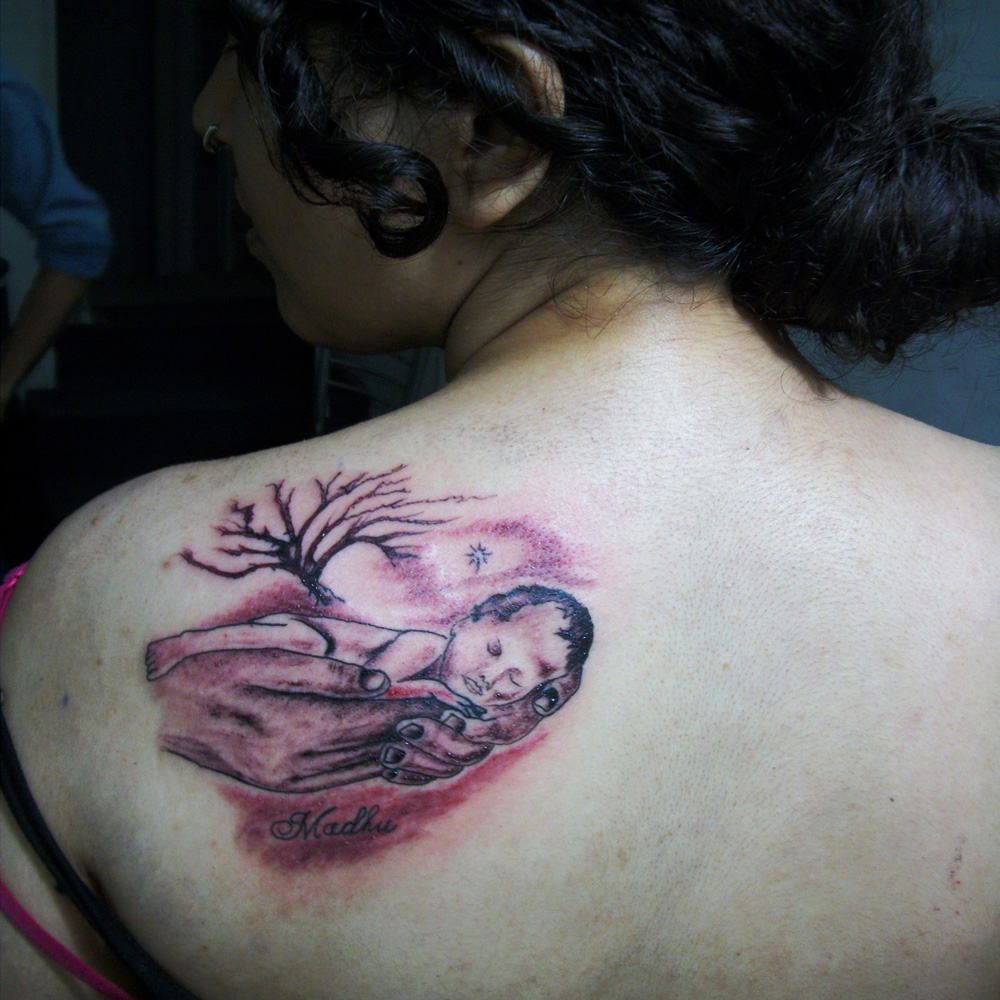 Did this tattoo in year 2011, but memories are as fresh as like it is yesterday's work. This respectable client was all clear what was wanting in her design, a new born sleeping calm in her mother's hands. To gave the tattoo more family touch, she added her mother's name 'Madhu' in the design. Whole tattoo came out as per client's expectations, and she also approached us years later for a new one. Also her friend liked this concept of family tattoo so much that very next week she also got inked by us.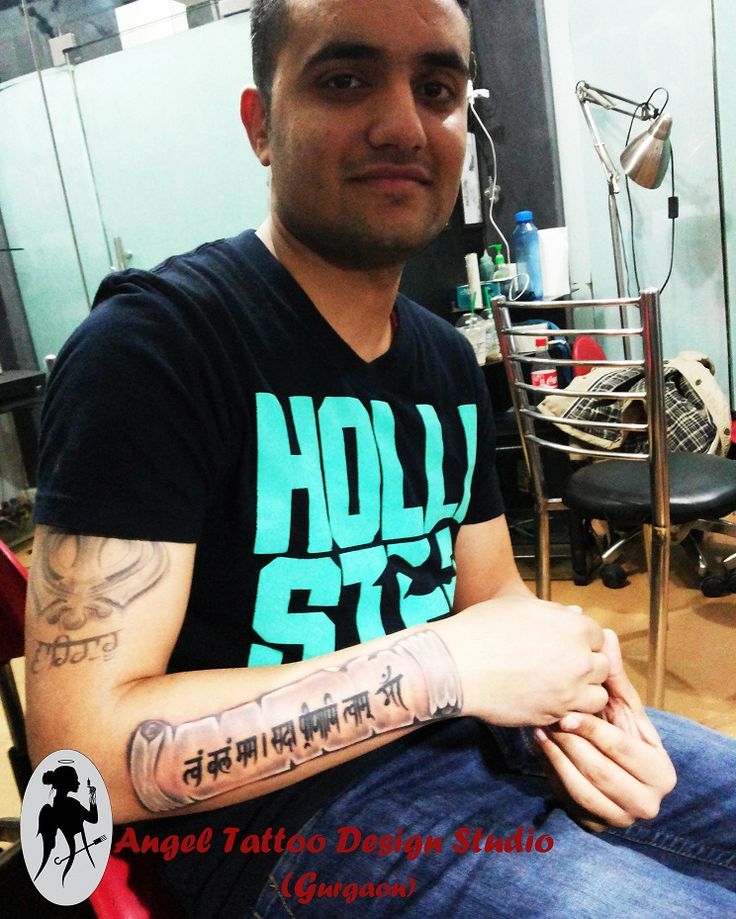 This client got sanskrit mantra tattoo on his forearm, which is a shlok in the praise of mother, which says, "o maa, you always gave me the power, i owe you respect forever with folded hands and bowing my head".
He got just the wording tattoo done some three years ago, and had to move out of India for job, and in his last visit here, he visited us for the extension of this tattoo and discussed and added old paper effect around the wording which gave volume to the design. Since he is now settled aways from his home town and country, he wants to carry this tattoo as reminder to be attached to his roots and culture for the life time.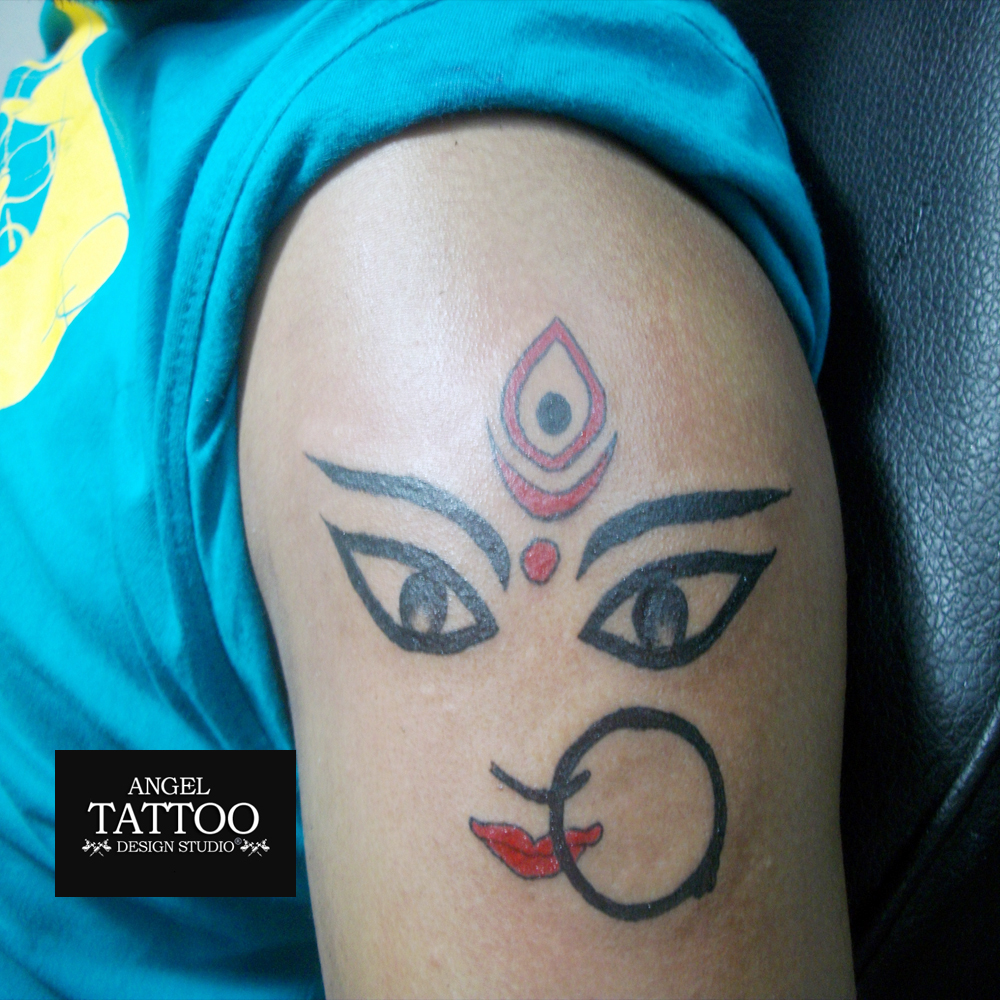 Maa is also given status of Goddess since ancient time to today in India. Each year we selebrate Maa Durga Puja as a major fastival. This young boy got a symbolic tattoo of maa durga, his way to always carry a token of respect for his mother. Maa Durga also represents women power, represents win of "good over evil", protection, courage; and all this in a form of a female parent.
We have done tattoo of Maa in more than 2 dozon designs. Some designs customer carry with them, some are originally designed by us, and some we do the changes after dscussion with client as per their need.
A simple maa design can bee tattooed with Maa writen in stylish Hindi or english script and end of the design extended with a heart beat sign, known as ECG or electrocardiograph. Just writing Maa in bold hindi script in black can also result as good small tattoo. Mixing Maa in hindi script with OM is a good concept for a new tattoo design. Or any element or a symbolic sketch of baby with mother mixed with wording can give you a tattoo of your choice. One can also get a portrait of her mother's picture as a tattoo, and getting it on back shoulder is like blessing of your parents are always there with you to support for life time. Or if you are fond of designs of angels or tinkerbell, you can work with the artist if whole design can be kept of an angle, just replace the face with face from a picture of your mother (maa) ! Or getting inked name or signature of your parents. Thumb impression of your mother done in a tattoo form can result a nice design. May be you can get a meaning "quote" about maa tattooed on you, or lyrics of her favourite song, or wording from a poem.. and list goes on..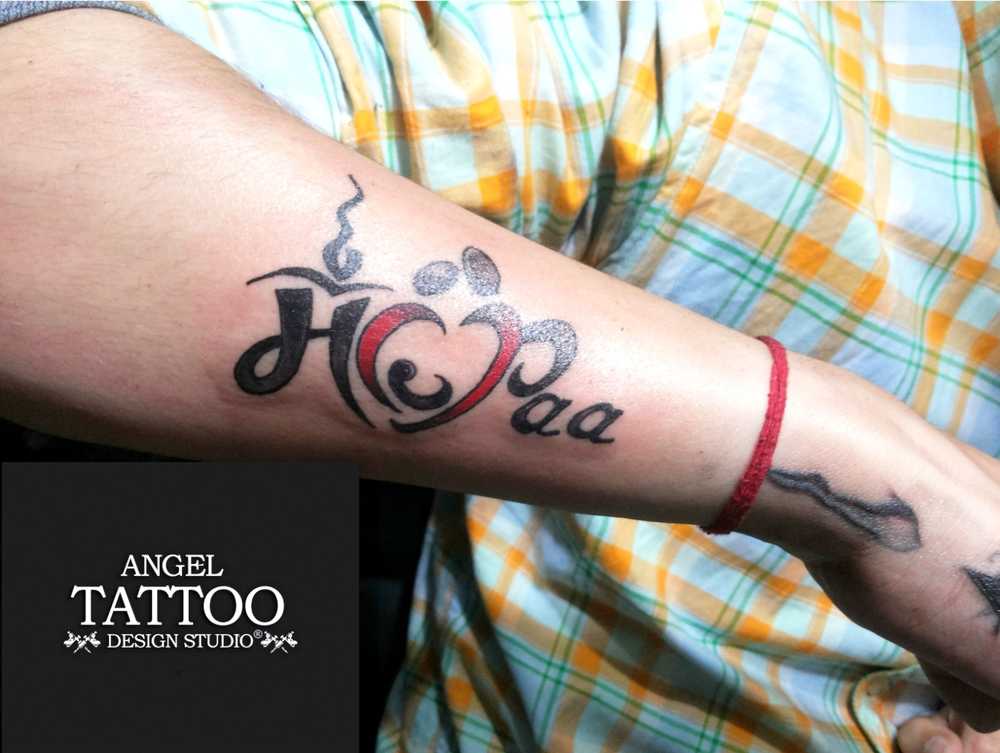 These are some Maa Paa Tattoo Design Ideas work by us :-
There is no one more amazing than your mother in this world
Your Parnts took more pains than you can imagine to grow you into a nice person, so show your love them by getting Maa Paa Tattoo
Maa Tattoo is always in trend, so no need to wait for mother's day, simply go to best tattoo parlour near you and give your mom a gift that last forever :-
"Sharing is caring", If you liked the blog, please share it on Facebook :

Share this blog with friends on Whatsapp :

This blog is contributed by Tattoo Artist Satty
Please have a look at tattoos made by us :latest tattoo made by us
---
Please Leave feedback, review, story or suggestion :
*Google Search :- "maa tattoo, maa paa tattoo design, maa paa tattoo design ideas, maa tattoo in hindi, maa paa tattoo with heart beat, maa tattoos, maa tattoo design, maa tattoo in hindi, mom tattoo in sanskrit, mother tattoo, mother tattoo in sanskrit"