Angel Tattoo Design Studio - Main Branch Near IFFCO Chowk, Gurgaon.
Price of Permanent Tattoos majorly varies and depends upon 7 factors mainly :
1st : Size of the Tattoo :
Size is the very first and most important factor in order to freeze the price of a permanent Tattoo. Small size tattoo will cost less and price increase as size. Most studios in India charge extra money for first square inch, which is necessary for an artist to cover the material cost, as as size increase, per square inch charges go down.
In India, almost all studios charge per size and not on hourly basis as it could be difficult to convince a customer (especially who do not have any tattoo before) to give price on time basis. Almost all Tattoo Artist in India, will clearly discuss price of a Tattoo with customer before starting the work.
2nd : Design of the Tattoo :
Though it is sometime difficult to make customers explain, especially those who do not have any tattoo, or do not have detail knowledge about tattooing, that along with size, design of a tattoo can also change the price majorly. So same size tattoo with difference in designs can cost different, some times as majorly as difference is almost double.
This is the reason that some artists in countries like America, Australia, Canda work on hourly basis and not per size. As Tattoo Market and awareness about tattooing is picking up in India, we expect customers in near future to accept the Tattoo Pricing based on both design and size and not only size.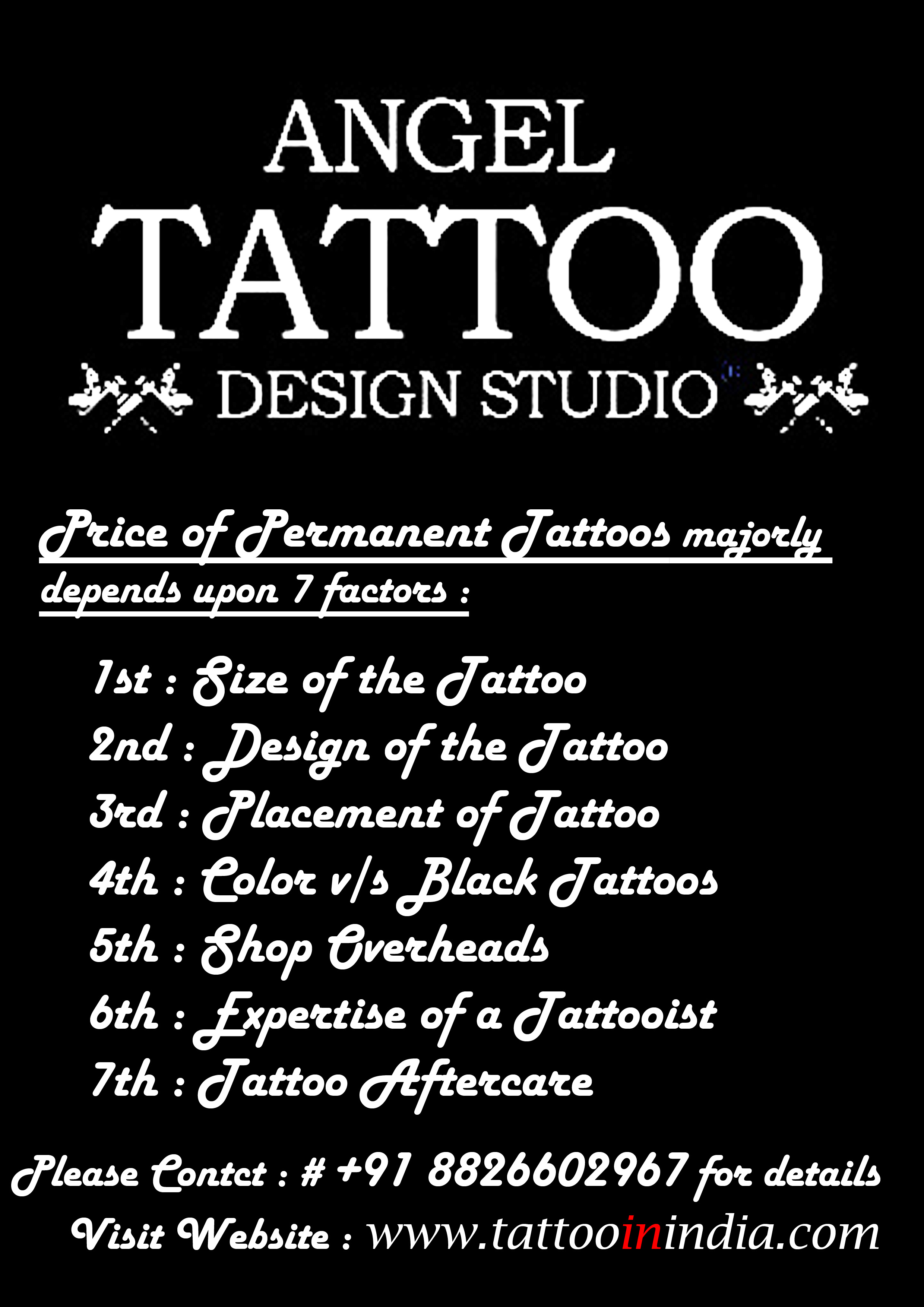 3rd : Placement of Tattoo :
Yes, placement of Tattoo on your Body, means which body part has to be tattooed can also play significant role finalizing the cost of a Permanent Tattoo. A Tattooist with some years in the Tattooing is always very clear about which body part is most easy to tattoo on, or which body part is the most difficult or most time consuming to work.
Same Tattoo design, in same size can cost you different if you choose to get it on your side neck than on side bicep. Artists know how difficult is to work on side neck compare to side bicep, so why an artist will charge same price ?
Usually it cost more to get a tattoo on : Neck, Lower Back, Chest, Breast, Pelvis Bone, Ribs, Inner Bicep, Hands, Face.
4th : Color v/s Black Tattoos :
Black Tattoos are less expensive, and here is the secret of why Black Tattoos are less expensive compare to color Tattoos:
Very first reason is the cost of the Ink. Black Inks are easily available and many companies have given successful results, also being very high in demand has maximum cost competition in the market. Most of the companies sell their black color with minimum margin just to sustain their name in the market.
Second, and a secret reason, which only tattooist know is that Black is the easy color to insert in the skin compare to any other color. It takes less time to finish the same size/design tattoo in black than any other color.
Thirdly, more number of colors means more color consumption/ color costing for an artist, which ultimately artist has to charge from the customer only.
5th : Shop Overheads :
It might be beyond common man's thoughts, but yes, shop's overheads do effect cost of the Tattoo in metro cities like Delhi and Gurgaon. All expenses/ overheads, which a shop owner has to bare to survive will kick customers pocket only. So, even if Tattoo material/Quality used is same, a Tattoo Shop at an expensive location might will charge you more than a shop with less rent. Shop rents, security charges and other overheads are always a part in Tattoo costing calculation.
Overheads of a shop, and price of a Tattoo also majorly change if the Shop is owned by the Artist or Artist is working on salary/ percentage basis. An artist, who own the shop can give you better price than an artist who is working in some body's shop on salary/ percentage basis.
6th : Expertise of a Tattooist :
Tattoo is a permanent change to your body, indeed its a piece of art which one has to carry for rest of the life. An expert artist, who has the capability, can really make a big difference in the quality of the Tattoo compare to a fresher. So do have a look at the Tattoos already made by the Artist, all good artists in Delhi and Gurgaon has their portfolios and websites to showcase their work. No good artist, after using good quality products in India will give you a good Tattoo below the price of Rs 1500 (year 2015). So be careful with heavy discount deals and remember its not about saving money, its more about to carry a piece of art with you for rest of your life.
7th : Tattoo Aftercare :
Tattoo aftercare is another topic which still needs lot of awareness in India. Good Tattoo aftercare products are available now, but customers still try to save some money when comes to tattoo after care. Some artists are now making 'Tattoo After Care' products as part of the tattoo cost.
Also there are some other minor factors which can make little change in the Tattoo price like :-
Cverup tattoos costs more compare to fresh tattoo. Coverup tattoo is when old tattoo (or damaged skin, skin patch etc) is covered with new tattoo. It needs extra time, so costs more.
How many needles an artist need to use in your tattoo
Material quality and kinds of machines artist use.
Weekends/ Peak working hours v/s weekdays morning hours
Your efforts in working a design before visiting an artist, in order to reduce the time and efforts of studio to start your tattoo.
With our personal experience and almost all good tattooist we met in past 5 years, no Tattoo Artist like to negotiate the Tattoo Price. A responsible Tattoo Artist always gives a reasonable price to the customer and do not expect or like to drag the discussion on price. When giving the price, artist is always clear about all the factors we discussed above.
For an artist, best way to quote the price is to take a printout of your design in desired size and then give the price. Over phone, or confirming price without freezing size and design can be difficult to maintain.
(This page is contributed by Tattoo Artist Satty)
Do have a look at tattoos made by us :latest tattoo made by us
*Google Search :- "Cost of permanent Tattoo, Tattoo Prices, Rate of permanent Tattoo, Tattoo Cost, Cost of small Permanent Tattoo, Tattoo price list, Tattoo Price offers, Tattoo shop with prices, cost tattoo, Best tattoo prices, how much tattoo cost, Tattoo Price deals, Tattoo discount deals, Tattoo prices in Gurgaon-Delhi, Cost of permanent Tattoo in Gurgaon"