Angel Tattoo Design Studio - Main Branch Near IFFCO Chowk, Gurgaon.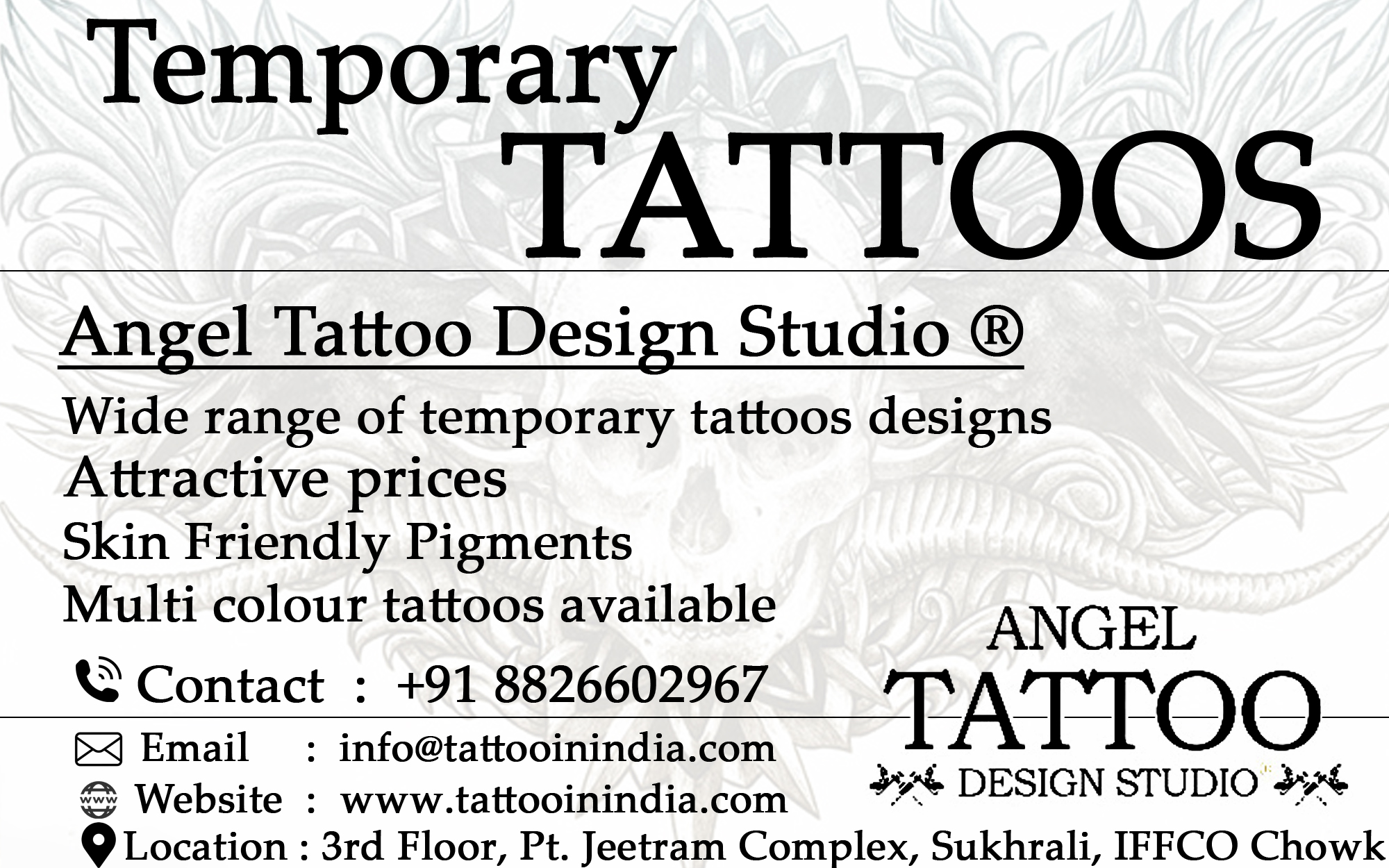 At Angel Tattoo Design Studio(R) , you can choose your design from wide range for temporary tattoo in best cost. Multi colour temporary tattoo are also available.
We make temporary tattoos using waterproof non-toxic inks. We also have mobile facility of Temporary Tattoos to attend Birthday Party, Official Gathering or any other Get-together in Gurgaon-Delhi/NCR-India. Please call us to check the prices for Tattoo Event
Temporary Tattoo services are available at our Gurgaon Branch : call us at 8826602967
---
Here is a Complete post on Temporary Tattoos which can guide on:
(1) To make a Temporary Tattoo
(2) Temporary Tattoo Prices
(3) Temporary Tattoos for your Events
(4) Precautions to be taken when getting a temporary Tattoo
(5) Places with Contact information for Temporary Tattoos.
---
How to make Temporary/ Fake Tattoo :
Temporary Tattoos can be made by 3 methods. Here are the details of each method which can help you to make a tattoo even at your home:
1st Method : Air Brush Tattooing :
Air Brush Tattooing is the most famous and favorable tattooing technique used by most of Artists in different cities of India.
---
Apparatus Required for Air Brush Tattooing :
How to make Airbrush Tattoo : Now as you have all the required material, here is the step by step guidance to make a temporary tattoo using Air Brush:
Clean and disinfect the skin nicely using Doctor Alcohol, Blades (if required) and Tissue Papers. Wear disposable gloves in whole process.
Stick the stencil on Skin carefully avoiding any bubble
Spray the Ink on Stencil using Spray Gun / Air Brush
Let the Ink dry for few minutes.
Spray the tattoo finalizer to add extra life the tattoo. Finalizer is a clear adhesive which help making waterproof layer on top of Tattoo, and add shine to the Tattoo.
Remove the stencil carefully leaving the Temporary Tattoo undamaged.
Airbrush Tattoo is most used technique for Birthday Parties, Family Events or official gatherings etc. where large number of tattooing needs to be made in less time with good quality and accuracy. Costing wise, it is expansive than rest of the temporary tattoo methods.
2nd Method : Free Hand Temporary Tattooing :
It is easy and quick to make a free hand temporary tattoo especially when you do not have ready made stencil of your design.
Apparatus Required :
1) Body Paints
2) Drawing Brush
3) Stencil Making Carbon Paper
4) Tissue Papers
5) Apron
6) Body Cleaning Agent - Doctor Alcohol/ Isopropyl Rubbing Alcohol also known as Ciprit can do a good job here.
7) Disposable Blades to remove hairs if needed.
8) Medically approved surgical gloves
How to make Temporary Tattoo/ Body Art without Machines :
Clean and disinfect the skin nicely using Doctor Alcohol, Blades (if required) and Tissue Papers. Wear disposable gloves in whole process.
Make a stencil of your design using carbon paper and apply it to the skin
Remove the stencil and start drawing the design as stencil with the help of Drawing Brush using Body Paints.
Let the tattoo dry for few minutes and apply 2nd coat if required.
However slow and with less accurate tattoo, this Tattooing is substitute to Air Brush Tattooing when ready made stencils are not available.
3rd Method : Transfer Temporary Tattoos :
Though not very popular because of design and color limitations, but still you can make simple, small single color temporary tattoos at home with this method.
What all you need is a Carbon Paper or called Hectograph Sheet (also available in different colors), Make a simple/thick design of your choice on this sheet. cut the sheet in desired size and transfer the Tattoo on your skin.
---
Limitations of Temporary Tattoos :
All the 3 methods we discussed here have some or other limitations. With Air Brush Tattoos, you can make designs very neatly and give a lot of details, but you will need a ready made stencil to make the tattoo. Stencils for Airbrush tattooing are made using special machines, so you will have some designs limitation here and needs advance investment on tattoo spray machine, tattoo colors and stencils and money involved in maintaining all these.
With Freehand Body Art/ temporary Tattooing : Neatness in tattooing can be a concern. You need expert artist to make free hand temporary tattoo, where as Airbrush Tattooing do not need any special skill.
To make Tattoo by Transfer is limited only with some simple designs and single color, also transfer tattoo do not look as appealing as other temporary tattoos.
---
Temporary Tattoos for Birthday's Parties or Events :
At Angel Tattoo Design Studio, we have mobile facility to attend Birthday Parties, School Functions, Official Parties or any get together in Gurgaon and Delhi NCR and other big cities in India to make Temporary Tattoos and entertain the guests.
Charges depends upon number of hours and number of Guests in the event. Please call 88266 02967 to book temporary tattoo artist for your event.
---
Precautions/ Safety Hazards in Making a Temporary Tattoo :
Though it is much easy to take care of a temporary tattoo compare to a permanent tattoo, but still few tips to ensure a safe and good temporary tattoos are :
Ensure to you Skin Friendly and Non Toxic pigments which are specially designed to make temporary Tattoos.
Temporary Tattoo should stay on your skin for 4 to 5 days or max up to 7 days. It is important that tattoo vanish away or your remove it withing or immediate after this period as our skin has small pores which needs breathing/ exposure to fresh Air. Failure to this may leads to Skin Infection or some skin allergies or Skin dis-pigmentation.
Remember a temporary Tattoo is just for fun and do not compromise on health. DO NOT GET Temporary Tattoo which is promised to you that it stay more than 7 days. There might be some strong adhesive mixed in the ink which is not recommended for making tattoos on skin. Such adhesive are usually used for white washes.
---
Price of Temporary Tattoos in Gurgaon/ Delhi :
Temporary Tattoos are not as expensive as Permanent Tattoos. A good/ Skin friendly material made temporary Tattoo will cost Rs 500 (Yeas 2013) for small size tattoo and price increase as size, details and colors of tattoo increases.
---
More Temporary Tattoos :
*Google Search :- "temporary tattoo, temporary tattoo shop, temporary tattoo artist, Temporary Tattoo For Events, Airbrush Tattoo for Events , Temporary Tattoo Artist for corporate events, Temporary Tattoo Artist Gurgaon, Temporary Tattoo Shop near me, Temporary Tattoo cost, Temporary tattoo prices, prices of temporary tattoo, Temporary Tattoo Artist for get together, "