Angel Tattoo Design Studio - Main Branch Near IFFCO Chowk, Gurgaon.
Geometrical Tattoo Designs:- Geometric Tattoo is one the best Tattoo category and it looks very cool after the tattoo done. if you are one wants to get a Geometrical Tattoo on your body then it is important that you know Geometric designs. and you need well experienced tattoo artist to get the job done. here is an example Geometrical Tattoo done by our Tattoo Artist – Satty at Angel Tatoo Design Studio :–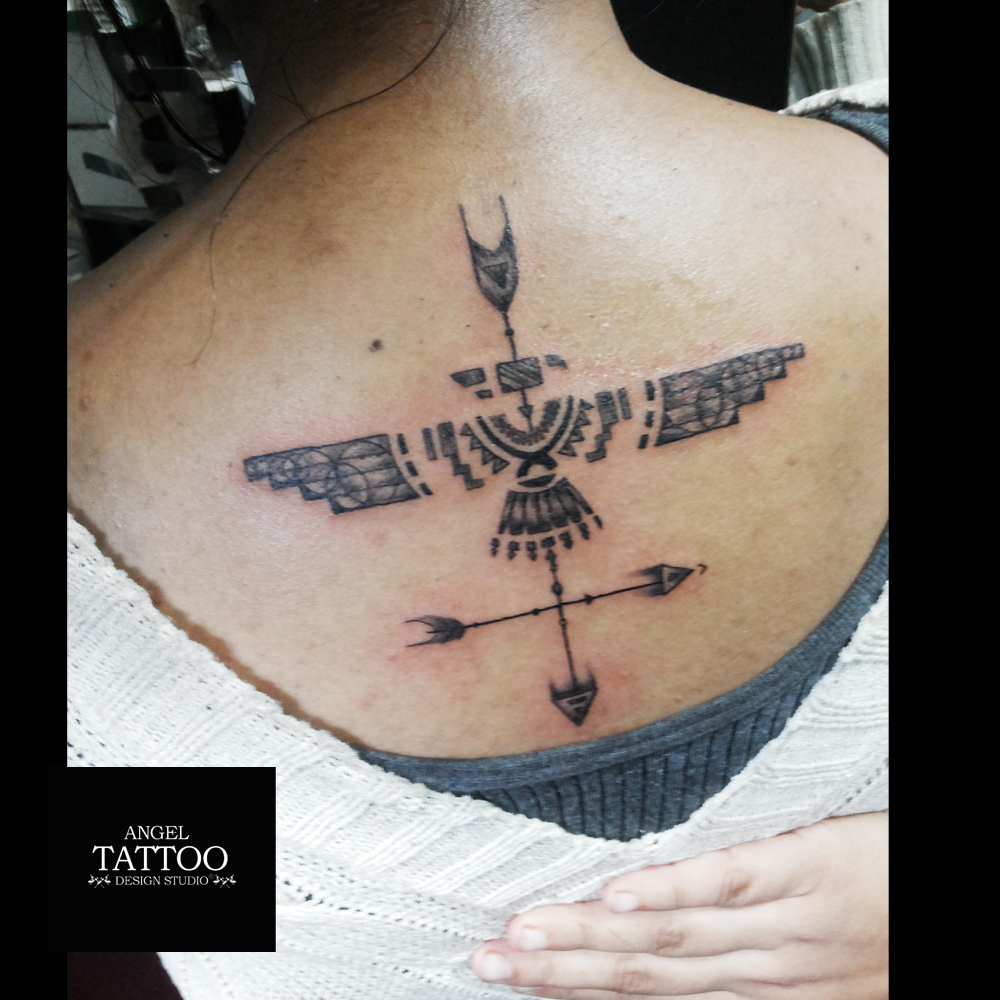 Geometrical Compass Tattoo - If you are getting Geometrical tattoo and a circle or triangle present in it, then it should be perfect circle or triangle and lines and dots should be on specific angle in the way of you tattoo. in the above their are four complete circles present from the exact same axis which tattoo a attractive look and the inner most in the tattoo which is not colored are exactly on the that angle where the outer most arrow like lines are taking place.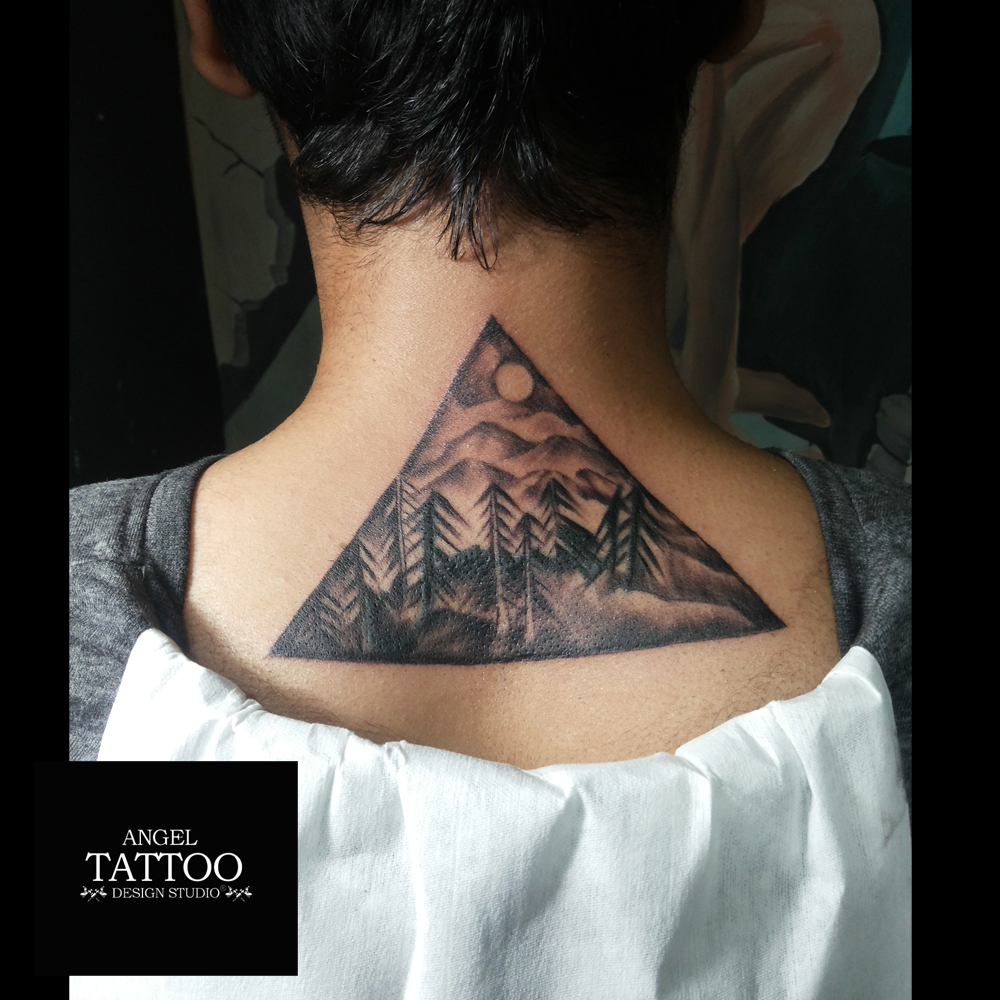 Geometrical Triangle Tattoo - Another wonderful art work by Tattoo Artist – Satty at Angel Tattoo Design Studio. in this tattoo there is a perfect triangle and a small circle in it. these kind of designs can cover the nature at your back neck there are many factors you can add in your geometric tattoo like – trees, mountain, ground, sun and shadows. in a triangle.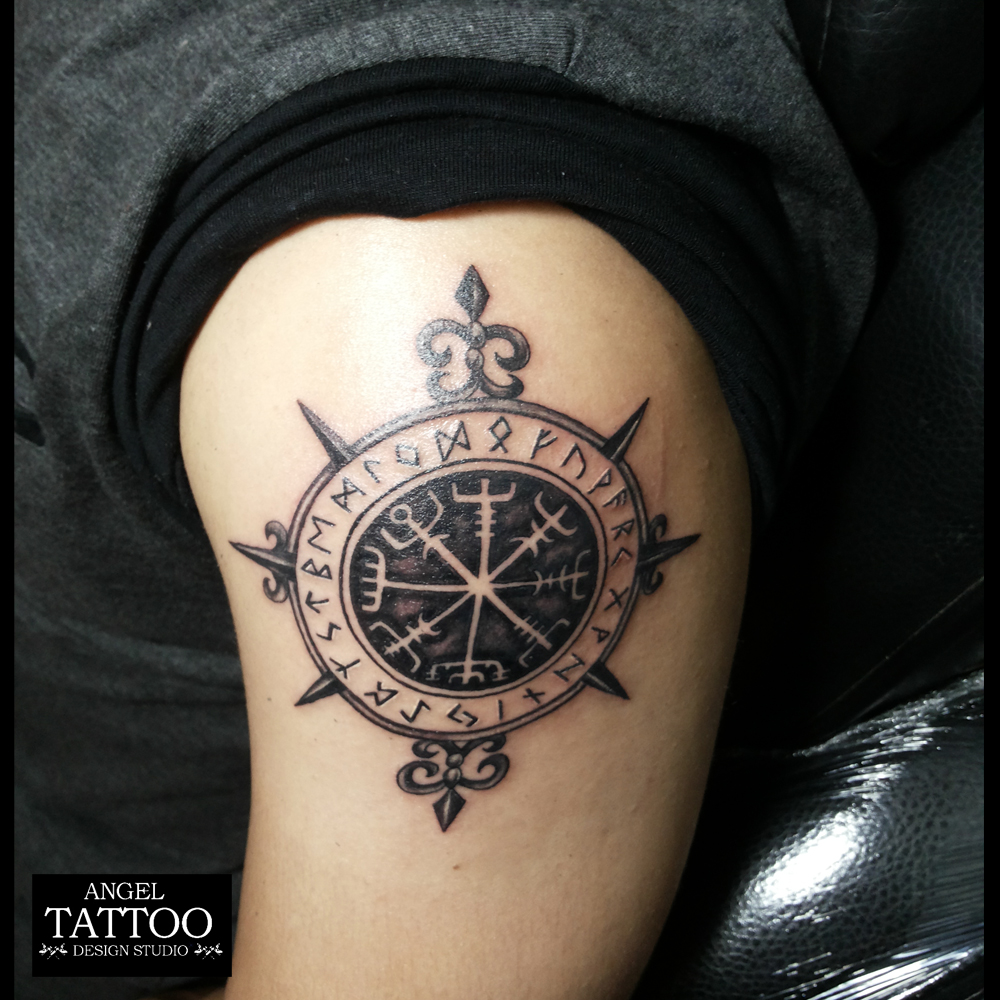 Geometrical Clock Tattoo - Geometrical tattoos are not like other tattoo categories. it contains lines and dots one certain degree so, your tattoo artist should be perfect in this art. be sure while a shape or designs of your tattoo because it will stay with you until your last breathe.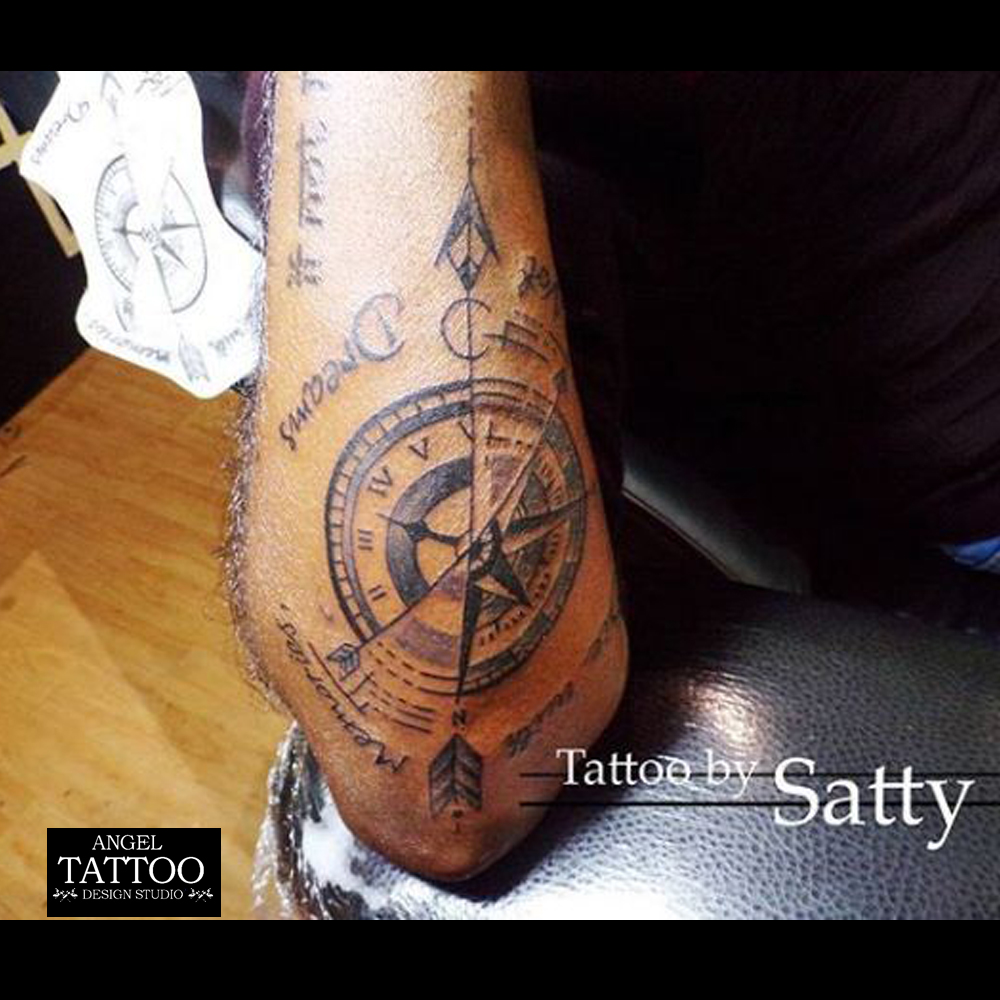 Geometrical Compass Tattoo - Compass tattoo designs comes with many other styles like - anchor, map, arrow, abstract, feathers, nautical symbols many others. This tattoo which is done by satty comes with two arrows, one arrow is in the middle of the designs which is the bigger one and the other arrow is smaller and done slightly rotated, this arrow also dividing the compass and watch.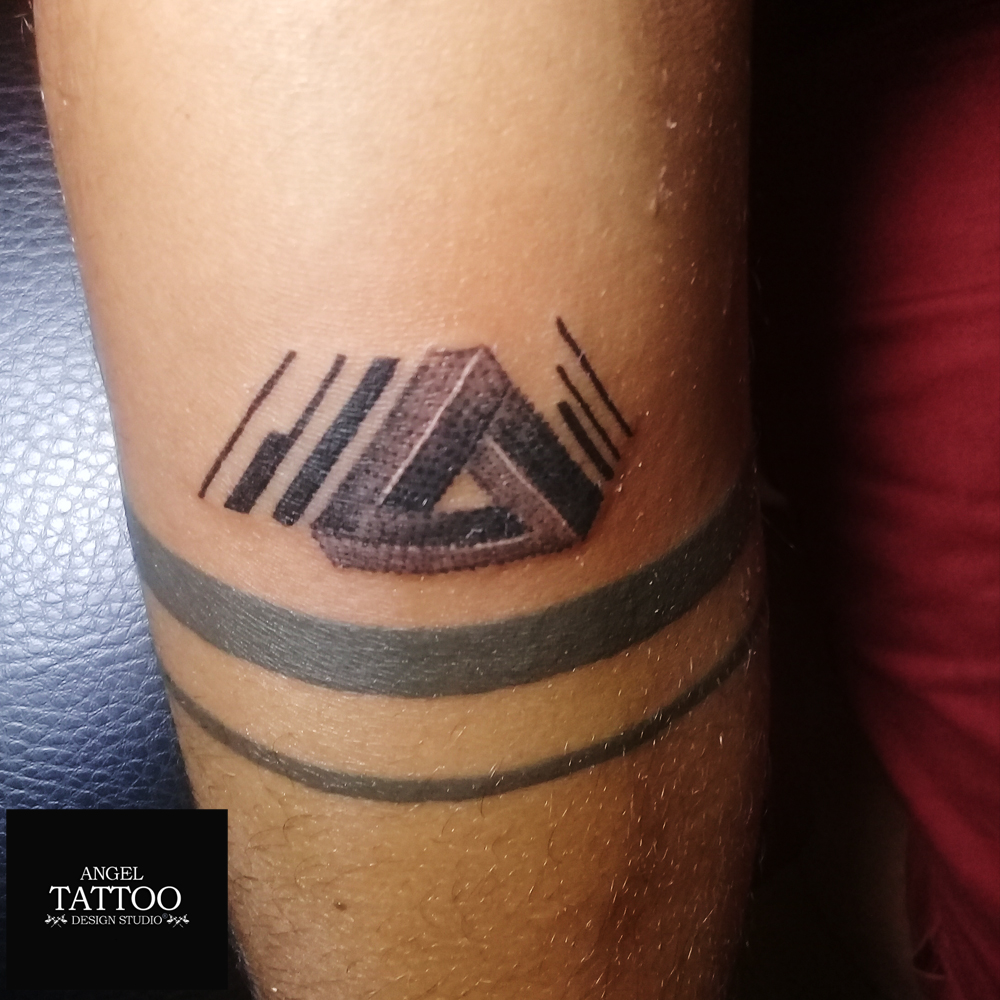 Geometrical Small Triangle Tattoo - Triangle is said to be one of the most ancient tattoo tattoo designs. A triangle has together three different sides to form one single image, and this shows combination between sharp objects. A triangle tattoo can also be used as a symbol of creativity and simplicity. As you can see this client already has armband tattoo below the triangle and then he decided to extend his tattoo, so he came up with this triangle tattoo designs. This triangle has dot work and shading work.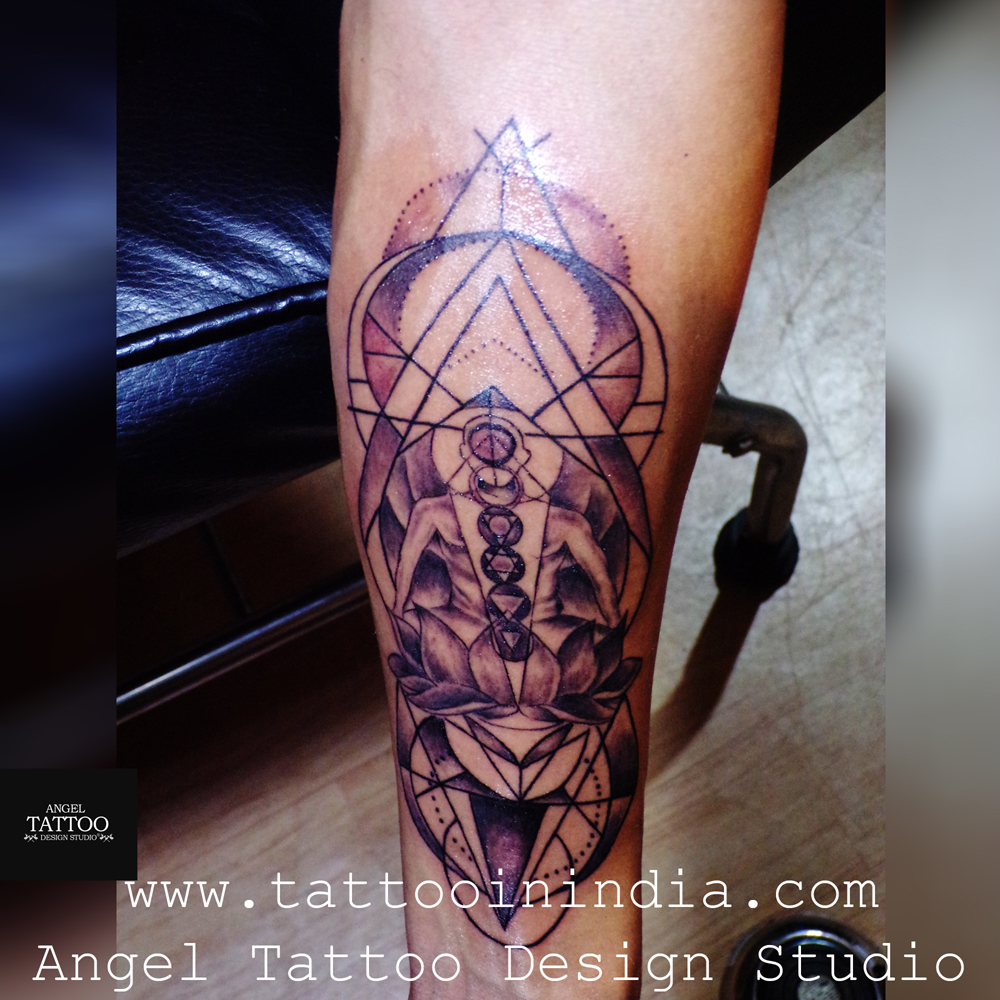 Geometrical Spiritual Tattoo - Todays, Tattoos are the way to express the religion to the God. In this tattoo there is man figure in the meditation form and there is a lotus below that figure and lotus is one of the most powerful symbol is hindu religion and in the middle of this tattoo there is a Om Chakra symbols and these chakras are also said to be Energizing chakra.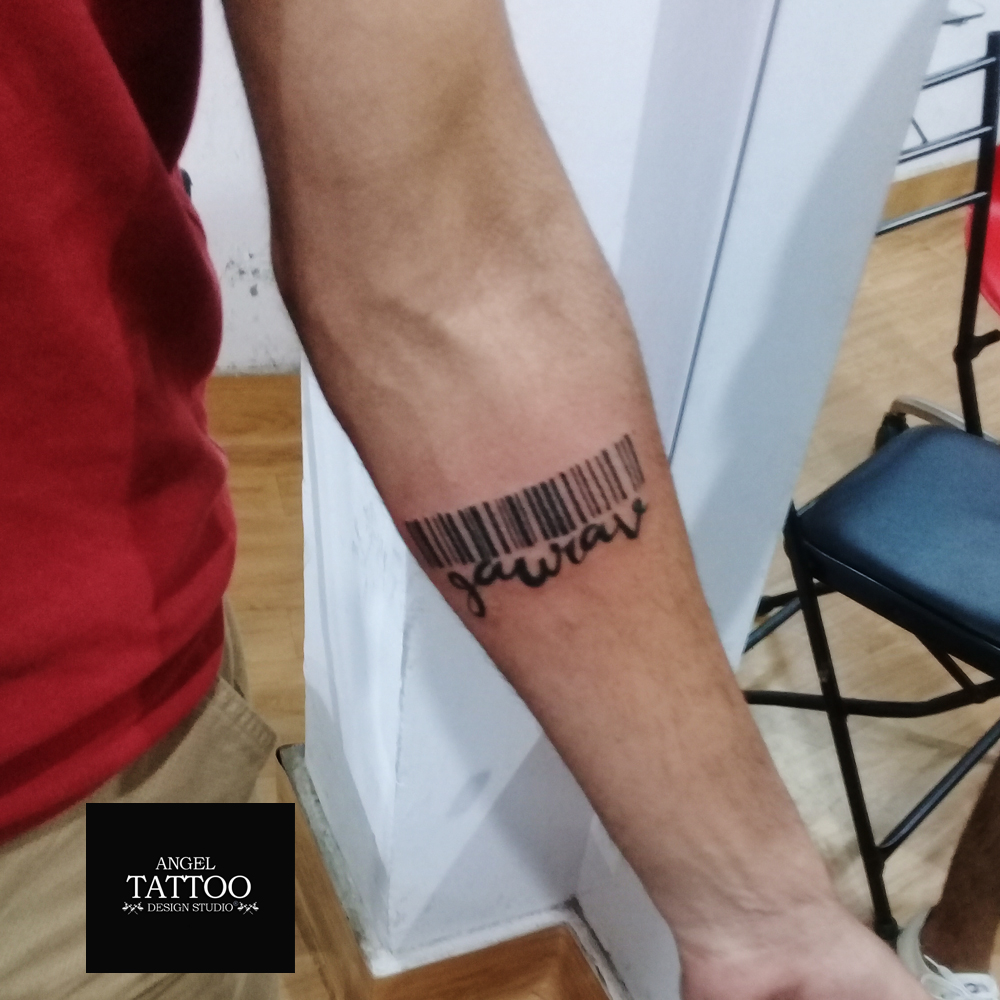 Barcode Tattoo - People love to have barcode tattoo on their body. Barcode tattoo tattoos are getting in trend in youngsters nowadays. You can have barcode tattoos on the wrist, forearm or on back neck.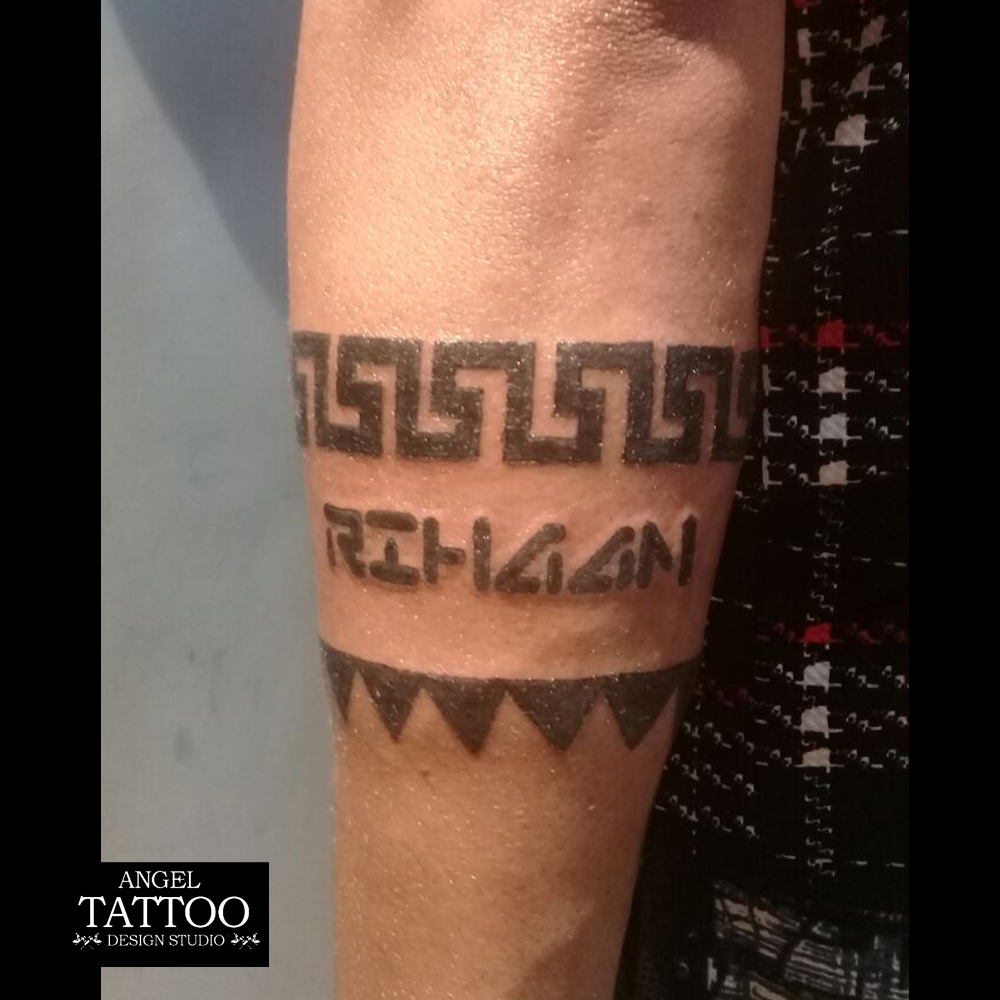 Armband Tattoo - Always in trend Category - Armband tattoos. If you combine both styles in one tattoo the result will amaze you. Have a look the armband tattoo on left there is a bold black line in square shape below that there is name of his son and daughter and there is small triangles covering all around the forearm.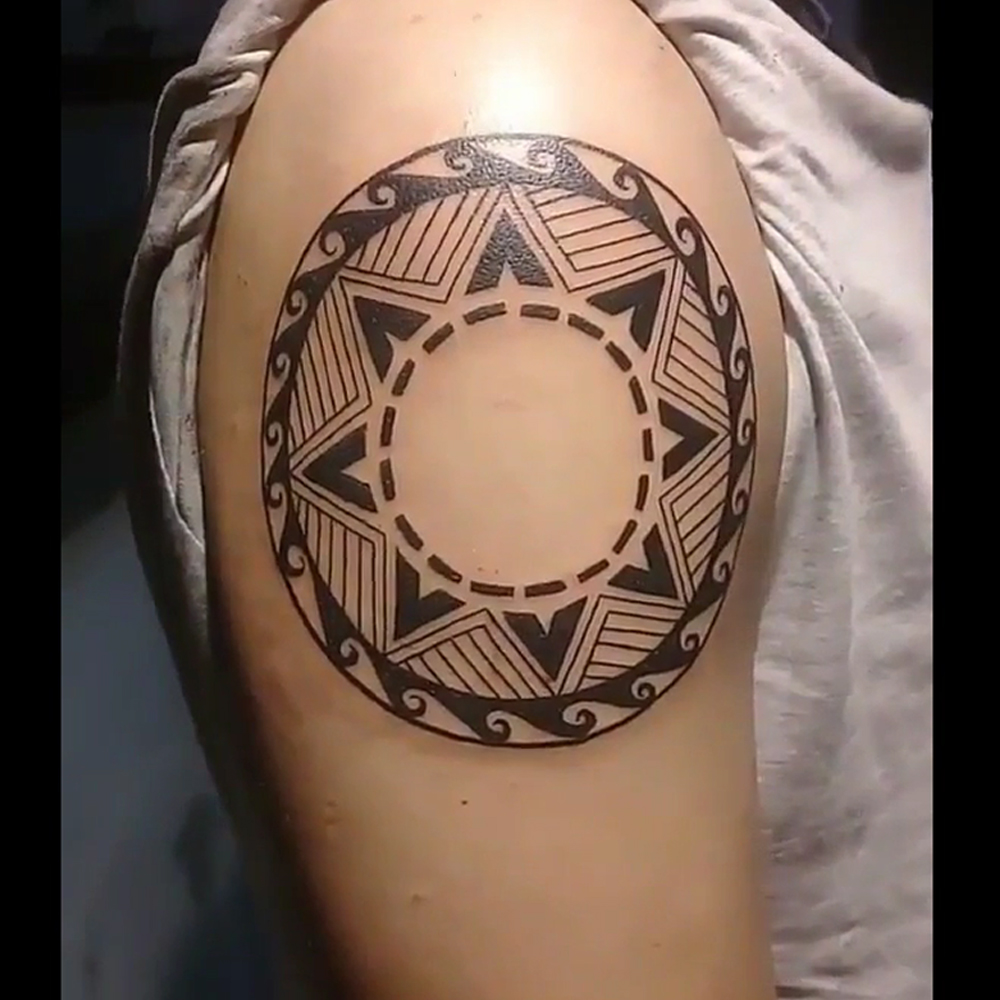 Geometrical Maori Tattoo - Maori tattoos are one of the best option to get it done of shoulder. This is a round tattoo, with black boundry outside and water layers under the boundary. inside there is sun shaped triangle outside the inner circle.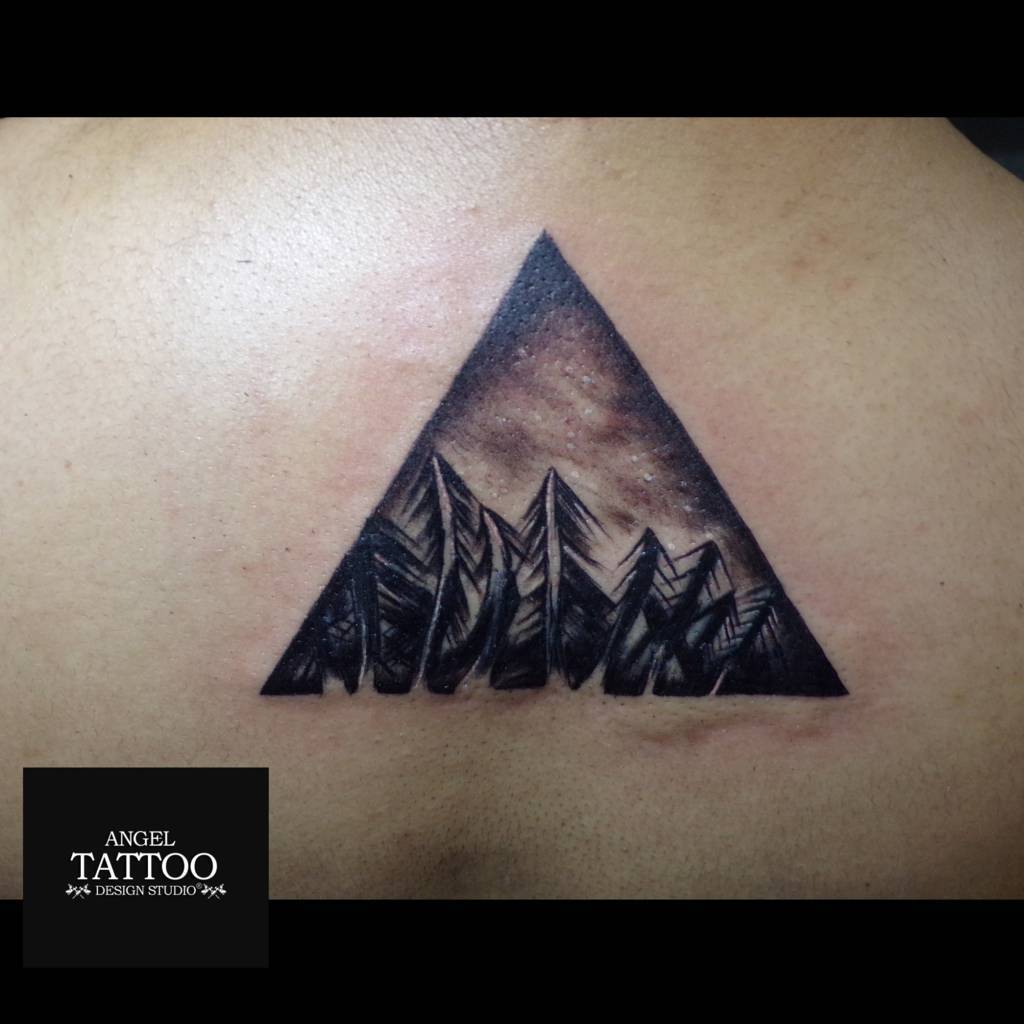 Geometrical Coverup Tattoo - This is a coverup triangle geometrical forest tattoo on back. This is one of the best to cover a small tattoo or scar on the skin.
Points to Remember while Getting a Geometrical tattoo on your body :-
Your Tattoo Artist should lot of Experience.
You and your Tattoo Artist should know about Geometrical degree lines.
You should select the Logical or Meaning Tattoo Design. so, that you can explain, if someone asks
--
*Google Search :- geometrical tattoo, geometrical tattoo designs, triangle geometrical tattoo, clock geometrical tattoo, circular geometrical tattoo